These days, it's in a band's best interest to explore alternative avenues of revenue as well as expand their fan base. Grizzly Bear, a Brooklyn-based indie band, has decided to do something that will do both of these things. In February of this year, they played a live concert backed by the Brooklyn Philharmonic Orchestra at the Brooklyn Academy of Music to promote their latest album "Veckatimest". This was their second concert to include an orchestra, their first being in March of 2008 with the Los Angeles Philharmonic at the Walt Disney Concert Hall. Live performance has become a more important source of revenue than record sales and doing a show with a live orchestra can spark a lot of interest. Grizzly Bear has a third live orchestra performance scheduled for the third of October at Barbican Hall with the London Symphony Orchestra.
The aim of Grizzly Bear's first orchestral show was to "break boundaries between genres and generations" (http://blogs.laweekly.com/westcoastsound/news/grizzly-bear-teams-with-the-lo/). This kind of show speaks to not only indie/alternative rock fans, but classical music fans as well. I think bringing together two different genres like this creates a very unique experience that people will be willing to pay more money for. It gets the indie rock kids out of the small, dirty venues and into these huge concert halls with beautiful architecture and amazing acoustics and it gives the classical folks a contemporary edge. I think that this kind of concert is a great way to create a hype and broaden their fan base, which in turn, will create more revenue flow. It also gets people to explore new genres of music and expand their horizons with is a kind of mindset that can lead to enrichment in arts as a whole.
Grizzly Bear isn't the only indie band with this idea. Spiritualized is playing similar shows with an orchestra and choir scheduled for December in Manchester. And, this isn't the first time something like this has been done. One of the first performances that combined a rock band played with an orchestra was in 1969 when Deep Purple performed with the Royal Philharmonic Orchestra. Man, that would've been cool.
Here's a neat article where Grizzly Bear talks a little bit about the topic: http://www.ft.com/cms/s/2/f787a046-9e61-11de-b0aa-00144feabdc0.html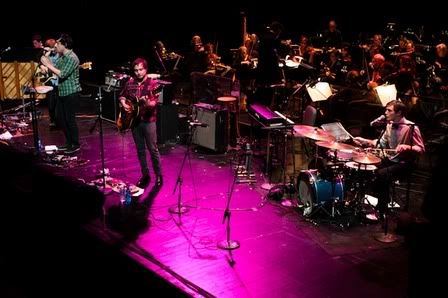 By: Erin Schwaba